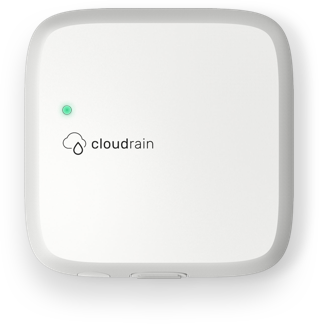 CloudRain Controller
The CloudRain Controller serves as the central irrigation controller. It connects to your wifi and via radio with your CloudRain valves. You can also control up to 5 cable valves.
€
159.-
(inkl. 19% VAT)
Delivery time: 1-3 working days
Description
CloudRain irrigates your plants according to local real-time weather data. Take control of your garden - no matter where you are. The CloudRain Controller is the central hub that connects your garden via your WLAN with the CloudRain system. Access our CloudRain Controller via our free app. The CloudRain Controller communicates with the CloudRain valves by radio and triggers irrigation as needed. The CloudRain Controller is designed for both indoor and outdoor use.
Use our CloudRain controller along with our radio-controlled CloudRain valves. If you want to use existing 24VAC valves with cable connections, the CloudRain Controller can also control up to five wired valves.
Tech Specs
Colour

RAL 9003 Signal White

Weight

350g

Dimensions

39x165x165mm (HWD)

Wired Valves

max. 5 Standard 24 VAC Valves

Radio Valves

max. 30 CloudRain Valves via Radio

Radio range

ca. 30m

Radio base frequency

Wlan 2.4Ghz and ISM Typ B (SRD) 868Mhz

Power Supply

24V AC (Power supply included)