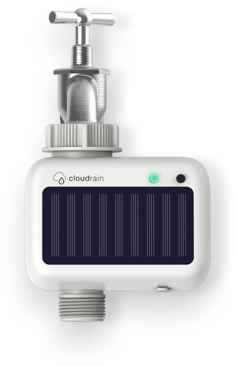 CloudRain Valve
The CloudRain valve is solar powered and connects to your CloudRain controller via radio. You can just screw it on your faucet and get started.
€
99.-
(inkl. 19% VAT)
Delivery time: 1-3 working days
Description
The CloudRain valve can be easily connected to your faucet in the garden without any tools. A matching adapter for the standard sizes 1 and ¾ inch is included. The CloudRain valve connects wirelessly directly to your CloudRain controller. The laying of cables is not necessary.
The CloudRain valve is powered by solar energy, so there is no need to change batteries. An internal lithium polymer battery ensures safe supply even in shady conditions.
Use your own CloudRain Valve for each zone of your garden. For example, you can create your own irrigation schedules for your vegetable patch and lawn to match your plant needs. You can max. Operate 30 CloudRain Valves.
The CloudRain Valve can be used with a simple garden hose or with integrated systems such as pop-up sprinklers or micro-drip systems.
Tech Specs
Connection faucet

G1'' (33.3mm diameter) or G3/4'' (26.5mm) (adapter included)

Connection output

G3/4'' (26.5mm)

Water pressure

0.5 to 10bar

Colour

RAL 9003 Signal White

Weight

360g

Dimensions

110x104x71mm (HWD)

Radio range

ca. 30m

Radio frequency

ISM Typ B (SRD) 868Mhz

Power supply

Solar powered including internal lithium polymer battery 1000mAh